About Superior Healthcare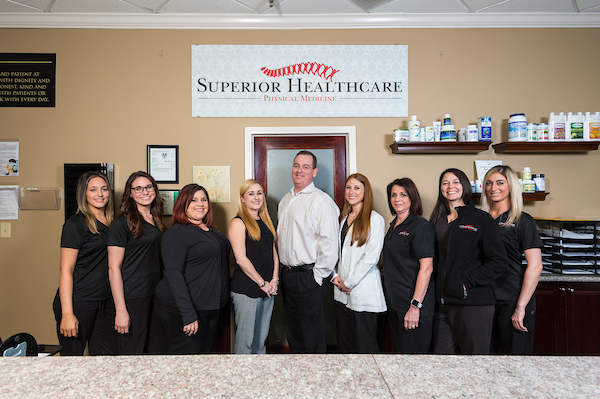 Over the past two decades, Superior Healthcare has developed a comprehensive approach to helping patients in the Greater New Orleans area recover from injuries and conditions of the body that have limited their productive lives. This approach to treating the total body is what sets us apart from other practices in the area.
The health and wellness of one's body should be treated with an integrative approach to achieve the highest level of health possible. At Superior Healthcare, we take this approach in treating each patient utilizing a multitude of different therapies for the quickest and most effective outcomes for the patient. Superior Healthcare is not just a chiropractic clinic, weight loss clinic, spinal rehabilitation clinic, or medical clinic. We are a unique all-natural health and wellness clinic that incorporates all of these therapies under one roof.
For those looking for a safe and effective weight loss solution, Superior Healthcare utilizes a weight loss plan for your individual needs that guarantees success. Using Chirothin, an all-natural state of the art weight loss program, combined with laser lipo treatments as much as 20 to 40 pounds of weight loss can be achieved in as little as 6 weeks under the care of our experienced doctors.
When a patient comes to Superior Healthcare with a physical injury, he or she will not be treated through only one of these approaches. Instead, we combine therapies such as physical rehab, chiropractic care, detox and nutritional supplements, trigger point therapy, IV nutrition, and platelet rich plasma to achieve your optimal health goals. Our team at Superior Healthcare looks forward to taking this journey with you through our integrative and all-inclusive approach to restoring wellness and happiness back to your life.
Call us at (504) 230-0852 to schedule an appointment today.
Our Doctors
Dr. Elizabeth Spadafora-Kupar, D.C
Elizabeth Spadafora Kupar, DC is the co-founder of Superior Healthcare, LLC. Superior Healthcare is a physical medicine practice in Metairie, LA. Superior Healthcare, LLC was opened in January of 2011. Before opening Superior Healthcare, LLC with Dr. Benjamin McNeil, she worked at Discover Wellness and Rehab from 2006 to 2010.
Dr. Spadafora Kupar received her undergraduate degree in exercise physiology from the University of Southern Mississippi and then went to Life University in Marietta Georgia for her chiropractic degree. In 2016, Dr. Spadafora Kupar began working with federal workers comp patients.
Dr. Benjamin J. McNeil, D.C.
Dr. Benjamin J. McNeil, D.C. is the co-founder of Superior Healthcare LLC. A physical Medicine Practice in Metairie, Louisiana; that utilizes the science and art of both chiropractic and medical services to aid his patients regain a functioning pain-free way of life.
Prior to starting his profession duties, Dr. McNeil was a 2003 graduate of Sherman College of Straight Chiropractic, located in Spartanburg, South Carolina. Following his graduation, he entered the 18-year family owned business of Discover Chiropractic and Wellness. After 8 years of practice and further education into the bio-mechanics of the human body, Dr. Mcneil opened and formed Superior Healthcare LLC with his partner Dr. Elizabeth S. Kupar, D.C
Felicia Robertson, FNP is Superior Healthcare's nurse practitioner. Felicia graduated nursing school from the University of Southern Mississippi in 2012. She went on to graduate from nurse practitioner school with her masters at Southeastern Louisiana University in 2017.
Felicia has enjoyed caring for others and has worked in many different fields throughout her nursing career such as internal medicine, telemetry, oncology, urology, and geriatrics. She feels passionate about caring for each patient individually, taking a full body approach to his or her needs and concerns. With the help of Felicia, we are able to encompass a medical aspect into our integrative team approach.
Our Medial Facility
At our facility, we have one goal: To start you on your path to better health. Our facilities include the best tools to provide a highly effective non-surgical approach to your pain or injury.